Our Primary Curriculum
Our Curriculum in Years 1-6
Our topic curriculum is being reviewed. The new curriculum will be launched in September 2018, in the mean time here is a link to the National curriculum expectations for each subject.
Click here for DFE Primary Curriculum Page
Week-ahead document will give more information about your child's learning in class
The curriculum at English Martyrs
Our curriculum is centred on our love of Christ, our spiritual development and our responsibility to one another and the world in which we live. Through our RE teaching, children learn to understand that we are all stewards of Christ and aim to live our lives according to our Gospel values: to treat others as we would like to be treated; to enable the good in everyone to shine through; to support all to achieve their God-given potential and to promote learning for life. This learning permeates through all our curriculum. We focus on developing the skills and knowledge in our broad and ever improving creative curriculum, to enable our children to develop inquisitive minds where they can be confident, independent learners who develop a growth mind set in their everyday approach to new challenges, regardless of their academic ability.
Children who attend our school come from a wide variety of backgrounds and cultures. We have 17 different spoken languages in school and children who begin our school have varying degrees of fluency in English.
From the offset all children are immersed in a language rich environment which is accessible to all. We focus on partner talk in all aspects of learning where children work and plan together, develop an ability to clearly articulate their ideas and positively listen to others. They are encouraged to support each other to achieve well. In subjects where technical language is required, we provide language support for all via word banks, displays and in the Early Years focused EAL support or teacher assistance guidance where necessary.
We strongly believe in providing children with a broad and creative curriculum in order for our pupils to make a positive difference and succeed. This academic year, phase one of our curriculum development, in every year group and every subject, led teachers to immerse children in the key, age appropriate skills and knowledge required in all subjects. They have been led by ideas from the children themselves in different subjects, who in turn help direct learning. This way children feel valued and become fully engaged. Teachers have planned and delivered topic days in history and geography, art and DT, science and ICT so that children became fully immersed in that subject. Children are given the opportunities to show their English, mathematical and IT capabilities in these subjects. We continue to develop our curriculum and look forward to the next phase of curriculum development where we will focus on a topic curriculum where all subjects are linked; children continue to develop skills and knowledge; they determine the direction of learning by expressing what they would like to find out and following their interests. This is a highly inclusive approach.
We are blessed with wonderful grounds adjacent to the Lousehill Copse in a town and county rich in learning opportunities. Staff organise opportunities for outside learning in all seasons and weather; for all subjects. They plan school trips as a stimulus for learning. We invite outside guests to share their life stories with our children; talk about their jobs and careers and give the children an opportunity to ask questions.
Personal, social and emotional (PSE) aspects of learning.
Linked directly to the children's spiritual development our pupils PSE wellbeing is paramount. From the moment children enter our nursery and/or reception there is a strong emphasis on self-awareness and respect for others. Children develop a growing sense of empathy for others. This class based teaching extends into our school playground where social and emotional resilience can be tested. We have a strong pastoral support team in school who support pupils and teachers deliver a strong PSE curriculum.
Growth Mindset at English Martyrs
The growth mindset culture at English Martyrs has helped both staff and children consider learning in a different way. The children understand that in order to learn they must be brave and make mistakes, and this allows them to tackle challenges they wouldn't have attempted before.
We truly believe a fixed mindset is a huge barrier to learning. A mindset can be changed whatever the age of a person, but the younger the child is when a growth mindset is fostered, the better the child's chance of success now and in later life.
At English Martyrs we are currently working towards a learning culture where:
Pupils have self-belief and know how to learn
Teachers have high expectations and believe that ALL pupils can succeed
There is pupil involvement at the planning and development stage of learning
Pupils know learning objectives and are involved in generating success criteria
There is discussion about what excellence looks like
There is effective questioning
There are talk partners and classroom discussion
There is effective self, peer and teacher feedback.
What matters most, in terms of motivation, is whether we see ability as 'fixed' (an entity learner) or 'growth' (an incremental learner). Those with a 'fixed' mindset will only tackle tasks which they know, in advance, they will succeed at. Those with a 'growth' mindset will not only willingly tackle difficult tasks, but will actively thrive on them.
Our aim must be to develop a growth mindset for all our pupils, for ourselves and for all adults involved in working with children.
RE
Being a Catholic School, RE is at the heart of our curriculum and covers 10% of the timetable. We follow the God Matters scheme, prescribed by the Portsmouth Diocese. A unit planner for God Matters, outlining what is taught in each year group, can be found here:
English
Language development is fundamental to all our learners in order for them to participate and engage confidently in their classes, homes, local, national and global communities. Our pupils learning journey in language development begins from day one in our nursery or reception settings. Children are continuously exposed to new language in a variety of ways for example: through conversation, story, poetry, songs and rhymes; through art and design, drama and role play and outdoor exploration; through all the areas of learning in our EYFS.
Children begin recognising and saying their phonic sounds through our Read write Inc. programme. New words and their meanings are modelled every day to our children in context and further explored by our skilled practitioners through questioning and practical opportunities.
Every class has a reading corner used to promote a love of reading. Children are encouraged to read in school as well at home. They are taught that reading is for several purposes including: research, topical interest in understanding the world around them; keeping abreast of local, national and global news; for leisure. Children's fluency in reading is taught alongside their comprehension of a range of text genre. Texts are forensically examined focusing on word meaning in context; grammatical arrangement of sentences; writers viewpoints and reasons for choice of language; the effect of punctuation within a text; the overall impact and/or meaning of a text. Teachers examine texts using the acronym:
V I P E R S. Vocabulary, Infer, Predict, Explain, Retrieve, Sequence or Summarise.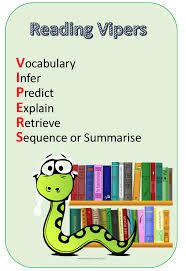 Children's ability to examine engaging pieces of writing in their reading supports their writing capabilities. We use Talk for writing to support children's writing.
Talk for Writing enables children to imitate the key language they need for a particular type of text orally before they try reading and writing it. Through fun activities that help them rehearse the language they need, followed by shared writing to show them how to develop their writing, children are helped to write in the same style.
Talk for Writing is developed over three stages:
The imitation stage – Each unit begins with the teacher sharing an engaging, topic related text with the children. As a class, or in groups, children create actions to accompany the oral re-telling of the story. They also create story maps, using pictures and symbols, to depict actions and events from the text. Children then explore the key ingredients and language that make the text work and build a tool kit of important features to use when writing their own versions of the text.
The innovation stage – This stage of the process is where children and teachers work together closely using the structure of the example text but changing certain aspects to make it different in some way. This process enables the children to write their own versions through developing their ability to generate good words and phrases. This stage begins with shared writing between teacher and pupils and develops into children working with peers to edit and review their work regularly as they re-write their own versions.
The invention stage – This stage is where children write their own text on a different topic but based on the structure and genre of the example text and using the key features they picked out and placed into their toolkit.
Grammar and spelling is taught within reading and writing lessons as well as in isolation. Children acquire a good understanding of grammatical techniques which they themselves can experiment with during writing opportunities. They use the correct grammatical terminology appropriate to their year group. Children are encouraged to have a go at spelling using their various taught strategies i.e. , Freddy fingers, sounding out, letter patterns, syllables, memory of exception/tricky words.
Teachers plan for opportunities for children to use their literacy skills and capabilities in their topic subjects.
Maths
Here at English Martyrs, we are passionate about maths! We aim to develop our children as mathematicians who enjoy engaging with the processes of problem solving over and above the completion of the actual calculations involved. We embed the core skills of addition, subtraction, multiplication and division, realising the importance and application of number in an everyday real life context.
We promote the importance of learning the multiplication tables and their related division facts through fun, effective, relevant lessons, celebrating individual achievements along the way. We develop an understanding of shape, data and measures through practical creative lessons which are often cross-curricular and encourage pupil led investigations.
Our teaching of mathematics aims to equip children with the necessary numeracy skills to allow them to use different methods and strategies in everyday life as they continue on their learning journeys.
There is a daily maths lesson in all year groups from Y1 –Y6. In Nursery and Reception classes, mathematics is integrated into the children's everyday learning experiences.
Children will learn to work flexibly and fluently with number and number operations to develop strong mental calculation skills. This supports a deepened understanding of standard written methods for calculation.
For those who are interested to find out more information, click here, this will link to the statutory requirements for the teaching and learning of mathematics for each year.
Science
Through science lessons at English Martyrs we aim to engage, inspire and promote curiosity about the world around us. Our science curriculum covers a range of topics including materials, light, sound, electricity, life cycles and forces.
Children are encouraged to think and act as scientists by asking questions and designing their own experiments to answer them. We use lots of practical resources in lessons and regularly invite visitors in to show children how important science is in the wider world.
We want children to be confident with exploring new ideas and using their mistakes to inspire future learning. Creativity, enquiry and a growth mindset are central to science at English Martyrs!
Science is taught weekly, with each year group covering topics in biology, chemistry and physics across the year. We have regular events to deepen learning and create excitement around science – such as our amazing science week in January!
We also link science to our English and maths teaching to give children a well-rounded understanding of all these subjects.
PE
PE is also taught as a separate subject. An overview of the PE topics covered in each year group can be found below:
If you require a paper copy of our curriculum, please contact the school office. There may be a charge for photocopying.