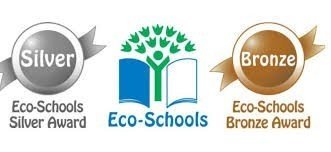 We are now a silver award Eco-School!
After forming an eco-committee in November we have chosen 3 main topics to work on- waste litter, energy, and marine life & plastic pollution. Thank you to everyone who has collected crisp packets. These have been washed, cut, and sent to a volunteer to be made into sleeping mats for the homeless. We have exciting plans for helping the environment with our other two topics very soon.
Before we apply for our Eco-Schools green flag and gold award at the end of term, we need an Eco-code. We are running a competition for this- can you come up with a chant or slogan about caring for the environment?
Our children's beautiful plastic art! The fish graveyard looks wonderful in the front garden.
Please remember if you see any rubbish or plastic lying around, please pick it up and put it in the bin. Keep our grounds clean and tidy
We have raised an amazing £336.00 for NSPCC. The costumes were brilliant, it was really hard to choose overall winners. Below are the winners of our Numbers Day
Turn Tilehurst Red for Remembrance 2019 - Schools & Nurseries competition - 2nd place!